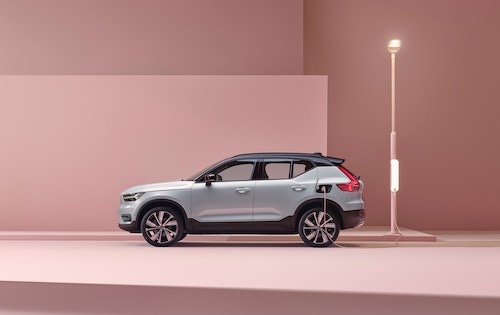 Volvo recently announced plans to release a fully electric car every year, over the next five years, with a goal of 50% all-electric Volvo cars being sold globally by 2025. Volvo also plans to make all remaining Volvo models hybrids. New all-electric Volvo cars will inherit the name "Recharge" to identify them as plug-in electric hybrid models.
The upcoming Volvo XC40 Recharge will be the first of these new electric Volvos to hit the market. Beginning next year, customers shopping on the Volvo Cars website will be asked if they want a Volvo Recharge model or not. Those who purchase a Volvo Recharge plug-in hybrid vehicle will also receive free electricity for a year via a refund for average electricity costs.
"We have said this several times before: for Volvo Cars, the future is electric," said Håkan Samuelsson, chief executive. "Today we take a major new step in that direction with the launch of our fully electric XC40 and the Recharge car line."
New Volvo Recharge vehicles will run an advanced, fully electric all-wheel drive powertrain that offers a range of 200 miles* on a single charge. These new vehicles will also be equipped with an Android-powered infotainment system that utilizes Volvo On Call to track how much time the vehicle spends running on electric power.
Soon, every new Volvo model will be available with the Recharge option. After the release of the Volvo XC40 Recharge, Volvo XC60 Recharge and Volvo XC90 Recharge vehicles will be next of this new lineup to arrive at dealerships. Volvo will soon be the only car manufacturer to offer a plug-in option for every model in its lineup.
*THIS IS NOT BASED ON EPA TESTING. 200-mile combined driving range rating. Based on EU WLTP testing under controlled conditions for a new vehicle. Your range will vary depending on driving conditions, how you drive and maintain your vehicle, battery-package/condition, and other factors.
Source: Volvo Car USA Newsroom