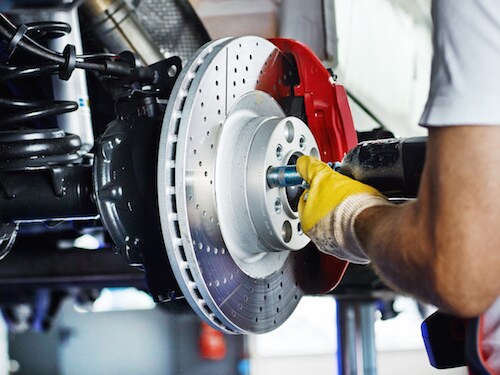 Our award-winning brake service department is here for you in West Houston, even if you don't drive a Volvo vehicle. A little-known secret about our brake repair center is that we work on all makes, models, and years, too! You may have noticed that our pre-owned department is filled with exciting off-brand vehicles. Every one of them is serviced right here at Volvo Cars of West Houston with the same quality OEM parts and materials required by the factory. In other words, if you're driving it, we can fix it! Please read below to learn a little more about our shop, services, and symptoms that may indicate that it's time for brake service.
How Do I Know It's Time for Brake Service?
Great question! Nowadays, brakes are made out of various materials, including metallics, semi-metallics, organics, ceramics, and even carbon fibers. Aside from all that, there are various sub-specifications for each pad type with regard to predicted loads, driving conditions, and weather conditions. The long and the short of it is, you can't just slam on any old set of brakes and think that your vehicle will work properly. Especially since many modern cars are mild-hybrids, hybrids, plug-in hybrids, and EVs, which rely on their braking systems to capture kinetic energy as a way of recharging the vehicle's battery! You might be in need of brake service if you experience symptoms like:
Poor charging performance from regenerative braking
Excess brake dust
Visible metallic or metal shavings on your wheels
If you hear screeching or grinding
If you can smell something "hot" after being in traffic
If you experience steering wheel vibrations exiting the interstate while using your brakes
Your red or yellow brake lamp has illuminated
Your ABS/TC/HDC/DSC lights have illuminated
Your vehicle pulls to one side while braking
You have poor stopping performance
Your pedal feels "mushy," "soft," or your pedal has extended travel
Any or all of these symptoms could be pretty serious, and we would encourage you to give us a call. We've got parts coupons and service specials designed to help you save while your vehicle gets serviced here in Westside Houston.
Volvo Brake Service & More
If you aren't sure whether or not your vehicle is safe to drive, call your roadside assistance provider for a tow to our facility. For Volvo Car customers, please use Volvo Valet or our service-scheduling form so that we may set something up that's most convenient for you. Aside from brake replacement, there's a lot more that we can help you with. Typically, when braking components need replacing, other vehicle systems need to be inspected. When was the last time your cabin filter was changed? How about your wipers? What about basic maintenance items like belts, air filters, induction, and ignition components? If it's been a while, taking care of these maintenance items will not only help your vehicle maintain top running condition, it will also help you prevent costly repairs down the line.
Bringing your vehicle here to us means you get more than just a place to go for brake service. You are putting an award-winning facility at your service, which helps you make the most out of your ownership experience, not to mention the cost savings involved with preventative care against future breakdowns. That aside, we've got a pretty fantastic showroom, too. So if you bring in your vehicle for an in-and-out oil change service (no matter what you drive), you've got a lot of eye candy to enjoy with the latest from Volvo Cars. Start your greatest service experience here with us!
Schedule Service