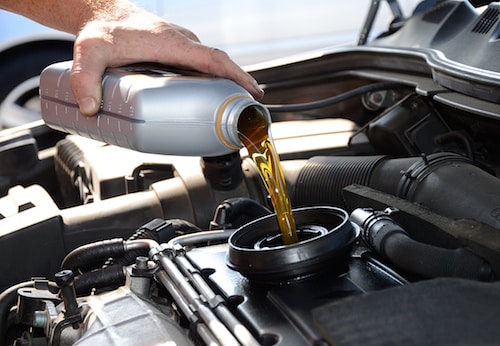 Oil changes are a set-in-stone fact of all cars' lives. It can sometimes put a damper on your day if you look at the odometer and realize it's that time again. We know it can be difficult trying to find time out of your busy schedule to set up oil changes, so that's why Volvo Cars of West Houston makes the process easy. Not to mention, we don't exclude any car make from our oil change services. So, whether you need to get Volvo Cars oil changes with any model or you own a Kia, Chevy, Mercedes-Benz, Toyota, Nissan, Mazda, Subaru, or just about anything else that needs an oil change, we can take care of you!
Synthetic Oil Changes
If you've been shopping around for oil and oil change service in West Houston, chances are you've come across the term "synthetic oil." If you're already familiar with and prefer synthetic oil in your vehicle, great! We offer several types of synthetic oil that will put life back into your vehicle. If you're not as familiar with it and want to know a little bit more about synthetic oil, keep reading to get some of your questions about this oil type answered.
Some people prefer synthetic oil over conventional because it tends to offer higher-quality lubrication, and (for any Science-heads out there) synthetic oil is more chemically stable. Usually, getting synthetic oil means you can sometimes go a bit longer between oil changes. It also flows better during cold weather, and full synthetics protect your engine better from wear due to overheating. Check your owner's manual to see the oil type suggested by the OEM. If there's not a strict requirement for conventional oil, that usually means you're completely safe to switch to synthetic if you want. Let us know, and we'll give you the low-down on what it might mean for your specific car!
Snail-Paced Service Is a Thing of the Past
Most of us have been there. We bring our car in for oil changes, and we get to stay in a less-than-impressive waiting room for stale coffee and decades-old seating. And we wait. And we wait. And we wait. We wait until we can't possibly stand it anymore, and when you're about ready to throw in the towel and do it yourself, the mechanic comes back and says your car is ready (and they've done a few other "necessary" services that they didn't tell you about).
At Volvo Cars in Westside Houston, we have three words for you: Oil Change Express. When you get oil changes with us, every service will be fast and transparent. Our technicians know their way around a simple oil change better than they know the backs of their hands! Not to mention, we will change your oil, and that's it (unless you've scheduled another maintenance request). We don't throw in hidden services or arbitrary fees, and our coffee is always fresh!
Get Oil Changes at Volvo Cars West Houston
We recommend getting your Volvo vehicle's oil changed every 5,000 miles or so, but you can always check your car's owner's manual for more specifics on your unique model and year. If you've already gotten your oil changed with us, you'll probably notice a little sticker on the top of your windshield showing the next mileage at which you should bring your car in to us for an oil change. Keep your car in running order by scheduling oil changes with us today!
Schedule Service