Thanks for clicking on our hybrid SUV comparison page. In about several minutes, you'll become familiar with three leading hybrid SUV models and what differentiates them from one another. If you're new to the hybrid SUV scene, this hybrid SUV comparison page will also tell you a little more about hybrid technology and what that means for you as an eco-friendly driver. Without further ado, we'll be showcasing the Volvo XC90 Hybrid, the Lexus RX Hybrid, and the Acura MDX Hybrid. Sure, we may have an obvious favorite, but it's for good reason. So let's start there. Or - if you've already made up your mind, jump right to our inventory of Volvo XC90 Plug-In Hybrid SUVs.
Our Volvo XC90 Hybrid Review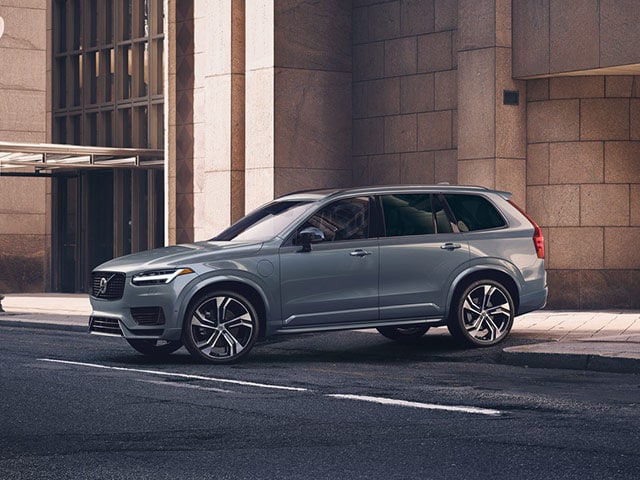 For over 20-years, the Volvo XC90 lineup of vehicles has made a name for themselves, catering to families that required safety, luxury, performance, versatility, and unique styling. It shouldn't be a surprise that members of this family have won awards in all of those categories over the years, but let's talk about what brings us here today. Let's look at the available model trims, features, and specs to shed some light on why. Available models-trims include:
The Volvo XC90 Recharge Hybrid R-Design
The Volvo XC90 Recharge Hybrid Inscription
While the R-design focuses more on sporting design, the Inscription amplifies all luxury aspects. Both are luxurious, and both are agile performers. But each model presents those qualities in a unique fashion. Both models, however, share the same standard equipment like adaptive LED headlights, LED DRLs, LED taillights, roof rails, premium wheels, keyless entry, keyless start, smart device connectivity, premium leather seating, whiplash prevention seats, a 12.3-inch configurable driver's display, a 9-inch infotainment center, voice command, wireless charging, semi-autonomous driving, adaptive cruise, high-beam assist, lane departure warning, lane-keep assistance, blind-spot monitoring, front & rear collision detection, autonomous braking, oncoming collision mitigation, run-off-road protection, and everyone's favorite: seating for up to seven. Did we mention the three-year/36,000 miles worth of maintenance is included? Let's see what the other OEMs have to offer.
The Lexus RX Hybrid Review
It's only fair that in this hybrid SUV comparison we flesh out competitive models to help save you time. The Lexus RX Hybrid offers two body styles. A standard length and a long-wheelbase. The latter of which is the only model trim to provide seating for seven. In other words, seven seats are not standard, as compared to the Volvo XC90 Hybrid.
In terms of luxury and technology, the Lexus RX Hybrid offers an upscale feel, though infotainment and driver's displays are smaller than those in the Volvo XC90 Hybrid SUV. Additionally, The Lexus RX Hybrid offers a well-rounded suite of ADAS safety with standard Lexus Safety System+. However, it falls short on other standard offerings from Volvo Cars, such as autonomous driving and many others. Lexus will pass the buck to you with service as only the first visit is covered. Lastly, the Lexus RX Hybrid falls a bit short on safety with only four stars from the NHTSA as compared to the top-rated, five-star status of the Volvo XC90 Recharge.3
The Acura MDX Hybrid Review
The Acura MDX Hybrid inhabits an odd place in our hybrid SUV comparison. While the Acura brand is wildly popular, a proper 2021 model year hybrid exists. For this model year, you'll have to find a new 2020 version. From the OEMs website, all 2022 models don't allow for hybrid configuration at this time. With that in mind, available models offer:
A standard third row
ADAS safety (though no available or standard autonomous driving, blind-spot monitoring or rear cross traffic monitoring)
LED headlights
Ambient lighting
Even though Acura shares reliable underpinnings supplied by Honda, Acura fails to offer any complimentary maintenance leaving customers to speculate about impending service bills.
If we had to look at things from a value perspective, we'd pit Lexus RX Hybrid vs. Acura MDX Hybrid first. Both are luxury arms of mass-market OEMs - Toyota for Lexus and Honda for Acura. Between the two, from the above stats mentioned, we'd pick the Lexus RX Hybrid solely on the fact that it has a current year model available and doesn't appear to be losing ground any time soon.
Let's take the winner from the first heat and match it up to the Volvo XC90 Recharge Hybrid. Lexus does a nice job creating an upscale cabin and can at least offer customers some consideration with service. However, seating for seven is not standard and neither is semi-autonomous driving. The most grave of concerns is with regards to safety. After all, this is where you will drive with your friends and loved ones. Should something unfortunate happen, would you feel better with a 5-Star rated vehicle or a 4-Star rated vehicle from the NHTSA?3 If we had to ask Lexus RX 450 Hybrid vs. Volvo XC90 Recharge, we know where we'd put our family.
Our Hybrid SUV Comparison & Pricing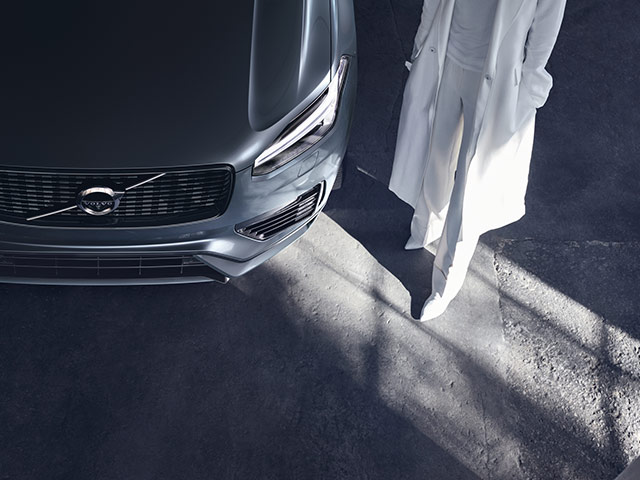 Even though you're paying full retail for last year's model, the Acura MDX Sport Hybrid starts at about $53,000.1 Mercifully, you can at least find the current year model of the Lexus RX 450 Hybrid, and for that one, you'll be able to slide behind the wheel starting somewhere around $47,820.1 You can take advantage of the vehicle with the most standard offerings from this review in our Volvo XC90 Recharge Hybrid from about $63,450.1
Volvo Cars beats out the other brands on standard safety equipment, safety ratings, seating, and cost of ownership with respect to service. Volvo Cars also embraces a stand-alone identity as a world-class luxury vehicle and doesn't masquerade as something that it isn't. Car & Driver has picked up on this gap in luxury and only gives the Acura MDX Hybrid a 6/10, the Lexus RX Hybrid a 6.5/10, while the Volvo XC90 Hybrid takes home an impressive 9.5/10 as well as their prestigious Editors' Choice Award.7
Our Hybrid SUV Comparison Continues. MPGe, Range, & Charging
For those new to the hybrid SUV scene, an important distinction needs to be made. Hybrid vehicles do not have the same charging capabilities as plug-in hybrid vehicles (PHEVs). PHEVs, such as the Volvo XC90 Recharge Hybrid, can recharge their batteries from an external power source for greater efficiency. The Acura and Lexus SUVs cannot do this. Additionally, Acura and Lexus only offer hybrid power. You cannot select a pure EV mode in either one. The Volvo XC90 Recharge Hybrid wins here, too, with an EPA-rated 18 miles of emission-free driving.2
But let's see what the competition offers anyway. Your combined Acura MDX Hybrid MPG stands at an EPA-rated 26 city/27 highway with a total cruising range of about 524 miles.2 The Lexus RX Hybrid gas mileage comes in at an improved EPA-rated 29 city/28 highway miles over the Acura, but a smaller total range of about 516 miles.2 Thanks to the performance of her all-electric motor, the Volvo XC90 Hybrid MPG beats them all with an EPA-rated 55 MPGe and a competitive cruising range of about 520 miles.2
Volvo XC90 Recharge

Lexus RX 450h

Acura MDX Sport Hybrid

Price:
$63,4501
$48,8451
$60,7751
Engine:
Hybrid T8 eAWD
3.5L V-6 DOHC
3.0L V-6
Horsepower:
400
308
321
0-60:
5.6 seconds
6.5 seconds
6.3 seconds
Torque:
472 lb. ft.
247 lb. ft.
289 lb. ft.
Drivetrain:
AWD
AWD
AWD
Towing Capacity:
5,000 lbs.4
No Towing
No Towing
MPG:
55 MPGe5
26/28/272
31/28/302
26/27/272
Electric Range:
18 miles5
NA, not PHEV
NA, not PHEV
Dimensions: Is Bigger, Better?
Let's talk about size for a minute. The whole "U" component to the SUV thing is directly related to how much you can do with one. The Volvo XC90 Hybrid offers a total cargo volume of 85.7 cubic feet with all rear seats folded flat. The Lexus RX Hybrid manages a total of 55.9 cubic feet with rear seats folded, while the Acura MDX Hybrid steps up and gives a whopping 90.9 cubic feet with all rear seats folded.
| | | | |
| --- | --- | --- | --- |
| | Volvo XC90 Recharge | Lexus RX 450h | Acura MDX Sport Hybrid |
| # of seats: | 6-7 | 5 | 6 |
| Cargo Capacity: | 85.7 cu ft | 55.9 cu ft | 90.0 cu ft |
| Length: | 195" | 192.5" | 196.2" |
| Width: | 77.1" | 74.6" | 77.7" |
| Ground Clearance: | 8.5" | 8.2" | 5.6" |
| Passenger Volume: | 103.8 cu ft | 98.1 cu ft | 131.4 cu ft |
Some Hybrid SUV Comparison FAQs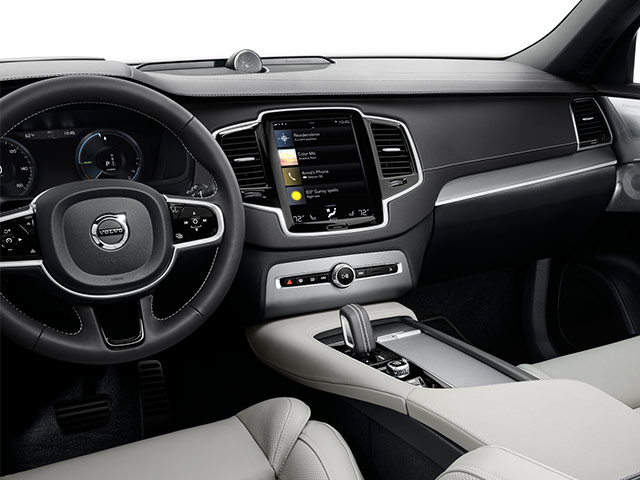 We know you've still got questions. Nothing beats driving one for yourself, but if you can't find the time to swing by, we're happy to answer some of the more candid questions that our sales specialists answer on a day-to-day basis.
Is Volvo Cars better than Lexus?
Better is a subjective term. Sometimes people have their favorites, and the customer retention and perception of the Lexus brand are very high. However, the Volvo Cars brand offers exceptional value above and beyond almost any OEM out there, including Lexus.
What is the price difference between the Volvo XC90 Hybrid compared to the Lexus RX Hybrid?
There's about $12K separating the Volvo XC90 Hybrid from the Lexus RX Hybrid. Once you start paying to upgrade the RX to the Volvo XC90 SUVs specs, you can quickly pass our entry point.
What is the MPGe of the Lexus RX Hybrid and the Volvo XC90 Hybrid?
The RX gives drivers about 29 MPG,2 whereas the Volvo XC90 Hybrid offers up to 55 MPGe5 with an 18-mile pure EV driving range.5
What is the difference between the Acura MDX Hybrid and the Volvo XC90 Hybrid?
Quite a bit, actually. Acura sells 2020 models for the current model year with no news of the model's presence in the 2022 portfolio. Acura doesn't include maintenance or a bevy of important standard features. Volvo Cars plans to go carbon neutral no later than 2040, offers three years of scheduled maintenance,6 and includes standard safety features unavailable from Acura. Is that enough?
Our Hybrid SUV Comparison Summary
You get what you pay for. Volvo Cars embraces distinctive old-world European styling. By that, we mean great attention to detail and the application of quality materials. All of this results in a difference you can see, feel, smell, and hear. The Volvo XC90 Hybrid offers capabilities that the others do not, and the Volvo Cars brand offers a pure luxury experience with customer needs anticipated and catered to across the board. We invite you to see a Volvo XC90 Hybrid at your nearest retailer and encourage you to ask about the Overseas Delivery Program, where you can receive your new Volvo SUV at the factory in Sweden while enjoying complimentary airfare, accommodations, and return shipping to your door. But wait, that's not all. We'd love for you to drop us an email to see what else we have in store at your Volvo dealership in Houston.
Explore Volvo XC90 Recharge
---
1Manufacturer's Suggested Retail Price. Excludes options; taxes; title; registration; delivery, processing and handling fee; dealer charges. Dealer sets actual selling price.
2Values are EPA estimates only. Your results will vary based on a variety of factors such as weather, road conditions, driving style, vehicle condition, and many others.
3Visit www.nhtsa.gov/vehicle/2022/VOLVO/XC90%20T5%20AWD/SUV/AWD for details.
4When properly equipped.
5EPA-based estimated distance on a fully-charged battery. Real-world range will be affected by your driving style and other circumstances.
6
Volvo Cars recommends that you bring your vehicle in for service at least once a year regardless of mileage. In such cases Volvo Cars will cover the recommended services at 1 per year for the first 3 years.
7Visit www.carandriver.com for more information.