View Inventory
The 2021 Volvo XC90 T8 is a three-row plug-in hybrid SUV with a turbocharged inline-four-cylinder engine up front that sends 313 horsepower through an 8-speed automatic transmission. In the back is an electric motor that delivers 87 horsepower. Together, this new luxury hybrid for sale generates 400 horsepower and 472 pound-foot of torque. When you're ready to upgrade your drive to a new Volvo XC90 plug-in, contact our dealership for hybrid SUV lease deals.
2021 Volvo XC90 T8 Awards and Press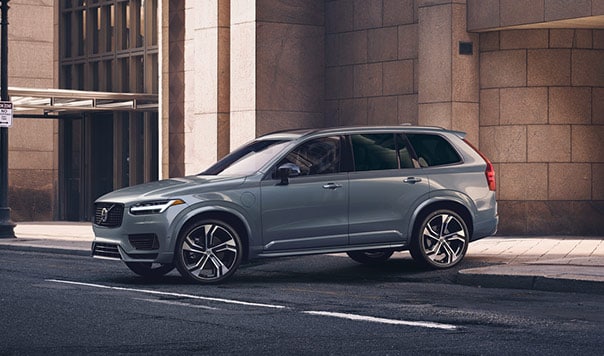 The Volvo XC90 Recharge is quickly making itself known in the hybrid SUV space, and people are noticing. If you are wondering what to do at the end of your lease and thinking about what new hybrid SUV is best, take a look at what people have to say about the Volvo XC90 PHEV. This new luxury car delivers performance that is truly impressive and an interior that many feel is setting the bar. After you see the reviews and accolades the Volvo T8 is earning, you'll want to stop by our new and used Volvo dealership for a test drive.
Trims & Pricing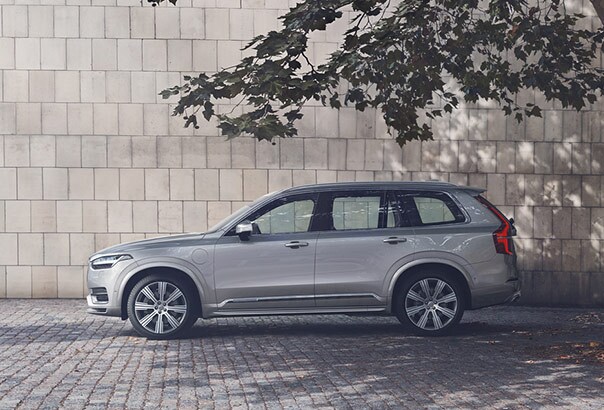 If you are ready to apply for Volvo XC90 T8 lease deals, then you'll want to know more about the standard features and available options on the 2021 model lineup. With a starting MSRP of $64,545,1 the Volvo XC90 T8 Inscription Expression offers the same engine found in the higher trim models, as well as a 12-inch instrument panel, 8-speed Geartronic™ automatic transmission, and Bluetooth® connection.
The Volvo XC90 T8 R-Design has a starting MSRP of $70,245.1 Drivers who opt for this mid-tier model will gain some exciting features. Notable standouts include 20-inch wheels, a perforated Nappa leather interior, and contoured front seats that give drivers more comfort and backseat passengers more room. Exterior design cues such as the glossy black details, including roof racks, window trim, mirror covers, and front grille, further distinguish the R-Design from the Inscription Expression trim models.
While all three trims are motivated by the same Volvo XC90 T8 eAWD engine/drivetrain, for the driver who wants all the bells & whistles, there's the Volvo XC90 T8 Inscription. Starting at an MSRP of $70,845,1 the Inscription gives you the highest number of features across the 2021 trim lineup. When you want body-colored door handles with puddle lights that activate when you unlock the vehicle, you want the T8 Inscription. When you want a Crystal Geartronic™ gear shifter by Orrefors®, built-in rear door sun curtains, and a leather remote key shell, you want the T8 Inscription.
Our sales team is standing by to point out each of these features to you during your test drive and tour, so you can find the model that matches your needs. If you are early in your research and wondering how the Volvo XC90 T8 stacks up against other hybrid plug-in SUVs for sale, we've put together this Volvo XC90 hybrid comparison for your review. After you see how the Volvo XC90 Recharge beats the competition, you'll be ready to apply for lease offers on new Volvo models.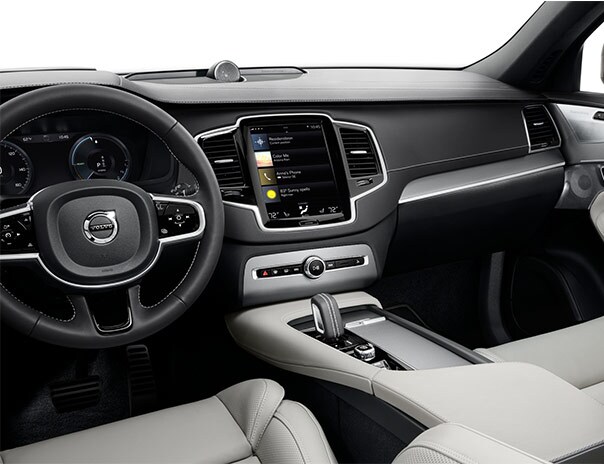 Performance Specs
The Volvo XC90 T8 has a combined horsepower of 400. If you're reading this review and model comparison of the Volvo XC90 plug-in, you care about performance. You'll be glad to know that this seven-seater SUV performs. As you can see by our performance specs chart, the Volvo XC90 T8 Twin Engine propels this full-size plug-in hybrid SUV from 0 to 60 in 5.6 seconds and across the 1/4-mile in 13.6. Those numbers are impressive for any vehicle, but for a vehicle that offers spacious seating for seven, advanced safety systems, and luxury appointments, those numbers are especially noteworthy. Not to mention a towing capacity of up to 5,000-pounds (when properly equipped) for when you want to bring some weekend toys for your next getaway.
| | |
| --- | --- |
| 0-60: | 5.6 seconds |
| 1/4 Mile Time: | 13.6 seconds |
| Horsepower: | 400 (Combined) |
| Towing: | 5,000-pounds |
How the T8 Hybrid Engine Works
As the hybrid name indicates, two things are coming together. In the case of a hybrid vehicle, the two combining elements are a gasoline-powered engine and an electric motor. This is also why the Volvo T8 is sometimes called a 'twin-engine.' It's because, in the front of the Volvo XC90 T8, there is a gasoline Direct Injected Turbocharged and Supercharged 2.0L 4-cylinder engine, and at the back of the vehicle, there is an electric motor.
Hybrid engines improve Volvo XC90 MPG numbers because there are times when the gasoline-sipping engine can turn off, and the vehicle can run purely on stored electric energy. The electric motor takes over when you're driving at lower speeds; typically, this occurs when you're in town, in stop-and-go traffic, and pulling away from stoplights - essentially, when frequent braking is needed, which charges the battery.
The XC90 Recharge is a luxury plug-in hybrid SUV, which means you will need to plug in your vehicle to charge the electric motor. When you purchase a Volvo XC90 T8, you receive a complimentary level 2 charging cable that is compatible with any NEMA 6-20 power outlet and allows for charging at both 120 V and 240 V outlets. The charging cable is 22.9 feet long for added convenience in case you are not able to park directly next to a charging station.
If you have any questions about how hybrid cars work or the Volvo XC90 Range, please feel free to contact our dealership for a brief overview. We're to help you find a seven-passenger SUV you and your family will love.
Volvo T8 Driving Modes
The drive modes on your XC90 T8 help tailor the responsiveness of your vehicle to the situation and road conditions, putting you in control of your drive. If you need to enhance or simplify the steering, acceleration, brakes, suspension, or various other systems, you can select the appropriate drive mode to give you the performance and efficiency your drive demands.
Here's a breakdown of the available drive modes on the XC90 T8 and how they function. Please feel free to reach out to our sales team for a greater explanation of any of these drive modes because not all drive modes are available at all times.
Hybrid Drive Mode: This is the default drive mode for the vehicle and toggles between the gasoline-powered engine and electric motor as needed. The Hybrid Drive Mode is engineered to be fuel efficient without compromising the experience or comfort of you and your passengers. When in Hybrid Drive Mode, your 2021 Volvo XC90 T8 will continuously monitor driving conditions then turn on the all-wheel-drive system if needed.
Pure Drive Mode: Only uses the electric motor in order to consume the least amount of energy possible and emit the lowest levels of carbon dioxide into the atmosphere. Pure Drive Mode adjusts the suspension to lower the height of the vehicle and reduce air resistance for maximum efficiency. Climate systems are also reduced in order to not draw off the electric motor.
Off-Road Drive Mode: If you need to cross difficult terrain or if weather conditions shift, this drive mode will raise the ground clearance of the vehicle to help you travel over uneven roads. The steering is also lightened for quick adjustments, and the Hill Descent Control and all-wheel-drive mode both activate.
Constant AWD Mode: This mode keeps the vehicle in a constant state of AWD, which evenly distributes power to the front and rear axles. This mode is designed for slippery roads from rain and snow, as well as when towing a heavy load or trailering a second vehicle. This drive mode is always available.
Power Drive Mode: When you want extra sportiness in your ride, this mode will send more power to the wheels of your new Volvo SUV. Take advantage of this mode when you want faster acceleration and more responsiveness. Faster gear shifts and faster steering pair with lower ground clearance and stiffer suspension for more speed through the corners and reduced body roll.
Individual Drive Mode: Sometimes, you want a little of Column A and a little of Column B. In those times, there's the Individual Drive Mode that lets you customize your drive to your preferences. You can then store these settings in your driver profile, so you don't have to customize your preferences every time.
How Charging the T8 Hybrid Works
A key factor in plug-in hybrid electric vehicles is how long it takes to charge when the battery is depleted. According to Volvo Cars, the Volvo XC90 PHEV will reach a full charge in 6-17 hours when connected to standard household 110 V (level 1). When the XC90 T8 is connected to a 240 V wallbox fast charger (level 2), charging times increase to 3-8 hours to reach a full charge. Level 1 charging is up to 16 amps, while level 2 is up to 50 amps. The number of amps available on your charging circuit/breaker dictates how fast the vehicle charges. A single 15 amp circuit may also power the vacuum and hairdryer, resulting in significantly fewer amps charging your vehicle; thus, it takes longer to reach full charge. It's generally recommended to charge your vehicle at night when other common electric items are not in use if you're using level 1 household current.
Interior, Seating, & Cargo
When comparing full-size SUVs with comfortable seating for up to seven passengers, buyers are quick to discover that there is a market full of quality options. To help you narrow down your search, we'd like to point out that the 2021 Volvo XC90 T8 offers to seat up to six or seven passengers across the trim lineup. The XC90 Recharge also boasts 85.7 cubic feet of cargo storage and an impressive 103.8 cubic feet of passenger volume. When you need a plug-in hybrid that will get your team to the game and have room for all your gear, don't miss this new luxury SUV from Volvo Cars. The T8 eAWD Inscription 7 Passenger offers plenty of front headroom with 38.9 inches as well as 57.7 inches of front shoulder room.
If you're looking for a new SUV with three rows of seating, it's because you plan to seat passengers in the third row. When it comes to third-row legroom, rear-seat passengers will have 31.9 inches and 44.9 inches of third-row hip room. Everybody gets to enjoy a comfortable ride in this new Volvo SUV, which will surely be appreciated on those longer rides. Just because you can seat up to seven doesn't mean you need to. With the six-seat option, you gain a wide middle aisle walkthrough for quick access to the third row.
Infotainment & Tech
Part of providing comfort for the whole family is offering a wide range of ways to stay connected, a touchscreen display, and advanced driver-assist safety technologies. The T8 eAWD delivers all of the above and more. At the center of the driver's center console is a 9-inch Sensus touchscreen that puts you in control of your Apple CarPlay® or Android Auto™ and popular mobile apps, such as Spotify, Waze navigation, Google Maps™, and more.
When it comes to the safety of you and your precious cargo, the XC90 Recharge comes with several driver-assist safety features. Notable highlights include the blind spot information system (BLIS) that helps you change lanes safely by alerting you if a vehicle is in or entering your blind spot. There is also a collision-avoidance system that helps detect possible collisions with other motorists, cyclists, pedestrians, and large animals.
Compare Against the Competition
Now that you've narrowed down your search to a plug-in hybrid SUV, let's narrow it down further and point out where the XC90 outperforms other vehicles in the class. If you're looking for a standard remote start, you won't find it on the 2021 BMW X5 xDrive PHEV. Do you want standard seven-passenger seating? It's only optional on the 2021 BMW X5 xDrive PHEV, 2021 Lincoln Aviator Grand Touring PHEV, and the 2021 Lexus 450h Hybrid. Maybe you're willing to sacrifice seating arrangements or comforts in exchange for range. Here's the thing: with the Volvo XC90, you don't have to.
The 2021 Volvo XC90 gives an EPA-estimated total range (gas + electric) of 520* miles. The 2021 Lincoln Aviator Grand Touring PHEV comes up short with 460*. The 2021 BMW X5 xDrive PHEV comes up even shorter with 400*. And the 2021 Lexus 450h hybrid doesn't mention the total range - never a good sign. When comparing the 2021 Volvo XC90 to the three other vehicles listed or when you want the three-row seven-passenger plug-in hybrid SUV with the most range of the group, you want the 2021 Volvo XC90. Get yours today at our local Volvo dealership.
The Complimentary Factory Scheduled Maintenance covers the first three services (10,000 miles, 20,000 miles, and 30,000 miles) at no charge.2 When you buy or lease a new Volvo XC90, you also have the protection of a Basic Warranty, a Corrosion Perforation Warranty, a Hybrid/Electric System Component Warranty, and a Powertrain Warranty, as well as Roadside Assistance Coverage. As you can see, Volvo Cars stands behind its product and wants you to enjoy peace of mind with your purchase, knowing your investment is protected.
| | |
| --- | --- |
| Basic Warranty: | 48 months/50,000 miles |
| Corrosion Perforation Warranty: | 144 months/ unlimited distance |
| Hybrid/Electric System Component Warranty: | 96 months/100,000 miles |
| Powertrain Warranty: | 48 months/50,000 miles |
| Roadside Assistance Coverage: | 48 months/ unlimited distance |
The Climate Package is a $750 upgrade that is available on all three trims. The upgrade includes heated wipers, heated rear seats, and a heated steering wheel. If you regularly start your day on a chilly morning, you'll be glad you opted for this upgrade. Any passengers you bring along for the ride on the next family getaway to the mountains or ski vacation will also appreciate these added comforts. In turn, this makes your drive more enjoyable. Ask the sales associate assisting you at Volvo Cars West Houston about how you can upgrade your Volvo XC90 lease with this optional upgrade and keep those hands toasty on cold mornings.
The Advanced Package is a $1,500 upgrade that is available on all three trims. Part of this package is a head-up display that displays important information in the windshield so you can keep your eyes on the road as you monitor navigation directions, current vehicle speed, posted speed limits, and more. The brightness of the display will adjust automatically to current light conditions and can be set to personal preferences.
Another feature in the Advanced Package is a 360° camera that gives you multiple angles of what's around you as well as a bird's-eye top view of the vehicle, so you can see all around your vehicle when parking and backing up. The next time you're backing out of a tight parking space, trying to parallel park on a hill, or hitching up to a trailer, you'll be glad you opted for the Advanced Package.
The Lounge Package is a $1,700 upgrade only available on the Inscription trim model. As the name would suggest, the Lounge Package adds to your comfort behind the wheel with its massaging front seats for you and your co-pilot. The next time you're on a long family road trip, choose one of the programs, three speeds, and three intensities; these enable you to tailor the experience to match your needs and wants. The backrests have 10 massage points to deliver your program to your lumbar region. The Lounge Package also offers a Nubuck headliner, roof pillars, and sun visors that add to the relaxing ambiance.
The Air Suspension Package is an $1,800 upgrade only available on the Inscription trim model. After you check the box for the Lounge Package, you'll also want to add this package to your list of options. When you want to feel like you're floating on a cloud, opt for the silky-smooth ride this package offers. The Four-C technology continuously monitors road conditions and will adjust the shock absorbers at all four corners up to 500 times per second to tune the chassis of your XC90 for maximum comfort. The Air Suspension Package will also automatically lower the ride height of the vehicle when cruising on the highway to reduce drag and increase stability for increased efficiency. For a dynamic and refined ride, opt for the Air Suspension Package before you take home your new Volvo plug-in hybrid.
Explore Volvo XC90 Recharge
---
1Price is Manufacturer's Suggested Retail Price (MSRP). MSRP excluding destination charge, tax, title, license and options. Dealer sets actual price.
---
23 years or up to 36,000 miles.
---
*2021 EPA Fuel Economy Estimates. Actual mileage may vary with driving conditions - use for comparison only.