2023 Volvo XC60: Release Date, Specs, Colors, Trims, & More

The 2023 Volvo XC60 is a family-friendly SUV with the performance chops to conquer rough terrain. The 2023 model year has brought several exciting changes to the vehicle, but it still provides fantastic value for drivers, just like the rest of the Volvo Cars lineup. The Volvo XC60 is now available as a mild-hybrid or a plug-in hybrid, offering fantastic fuel economy that can help you save at the pump. This vehicle is a great investment for you and your family.
---
2023 Volvo XC60 Redesign
The 2023 Volvo XC60 is available in three brand-new trims. The Momentum, Inscription, and R-Design options of yesteryear are gone; they have been replaced by the Core, Plus, and Ultimate models. These choices are available for both the mild-hybrid versions of this sleek Volvo SUV and the incredible plug-in hybrid Volvo XC60 Recharge, which gets phenomenal gas mileage.
The other major change to the 2023 model is the replacement of the gasoline-only powertrains. The 2022 version had two gasoline-only models and the plug-in hybrid Recharge. The 2023 iteration, on the other hand, boasts two mild-hybrid powertrains and the plug-in hybrid option. Here's a closer look at the specifics of these incredible and economical powertrain options.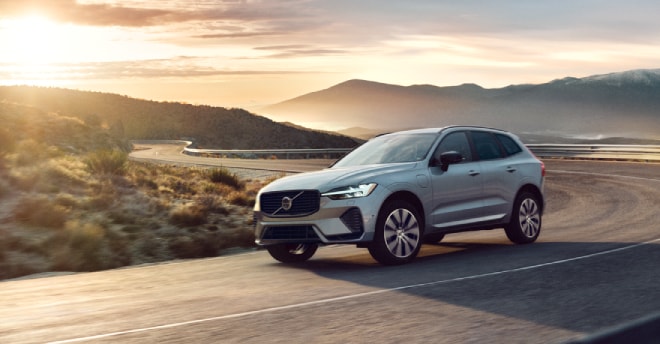 ---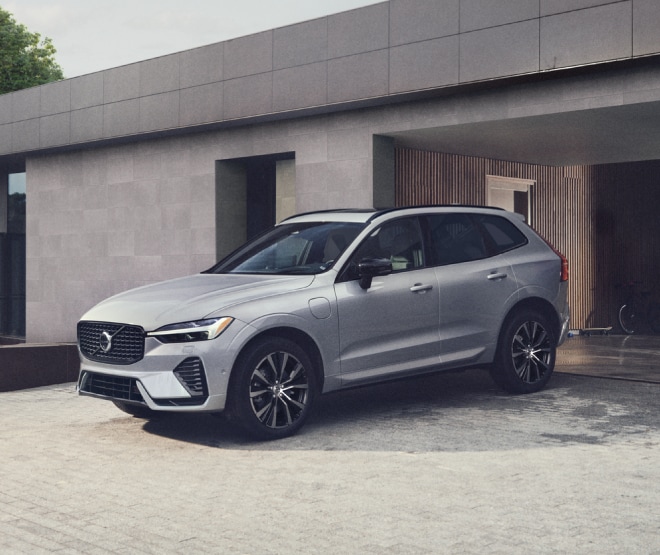 2023 Volvo XC60 Specs
Three powertrains are available for the new Volvo XC60. The entry-level B5 powertrain pairs a 2.0-liter turbocharged four-cylinder engine with a 48-volt battery-and-motor system to output 247 horsepower and 258 pound-feet of torque. It comes standard with front-wheel drive and a smooth automatic transmission. All-wheel drive is an available upgrade. The front-wheel drive version gets an EPA-estimated 23/30/26 MPG (city/highway/combined),1 while the all-wheel drive powertrain boasts an EPA-estimated 23/29/25 MPG (city/highway/combined).1 You'll have some extra money in the family budget with this sleek SUV on your team.
The other mild-hybrid option is the B6 powertrain, which adds a supercharger to the B5 configuration. This raises the horsepower rating to 295 and the torque to 310 pound-feet. This trim is all-wheel drive standard and available for the Ultimate trim. It can launch the 2023 Volvo XC60 from 0 to 60 in just 5.9 seconds and enjoys an EPA-estimated 21/27/23 MPG (city/highway/combined).1 The B6 setup is not the most powerful option, however.
The Volvo XC60 Recharge uses the turbocharged and supercharged 2.0-liter engine along with a more powerful battery-and-motor system to make 455 horsepower and 523 pound-feet of torque. Like the B6, it comes standard with all-wheel drive. Unlike the B6, it can jump from 0 to 60 in just four and a half seconds. If that's not a reason to consider buying our new Volvo XC60 for sale, we don't know what is.
---
2023 Volvo XC60 Interior
The cabin of the 2023 Volvo XC60 is as luxurious as the powertrains are muscular. The base model Volvo XC60 Core comes with your choice of cloth or leatherette upholstery, a panoramic moonroof, a two-zone climate control system, and a suite of dynamic safety features. You'll enjoy comfortable seats while the music flowing from your 10-speaker sound system will keep everyone in tune, even on long rides.
The Plus and Ultimate models have even more impressive features. You'll find heated seats, leather upholstery, real wood interior accents, and more compelling luxuries on these trims. All of them, however, offer fantastic value for your money. You can configure the vehicle to meet your preferences, whether you're choosing the interior color scheme or the exterior paint job on your car.
The 2023 Volvo XC60 colors are vivid and varied. You can choose from the following options:
Black Stone
Onyx Black
Denim Blue
Thunder Grey
Fusion Red
Platinum Grey
Silver Dawn
Crystal White
Bright Dusk
These nine color options run the gamut from subdued to attention-grabbing. Volvo Cars leaves it to you to decide if you want to be in the spotlight or pass unnoticed on the roads.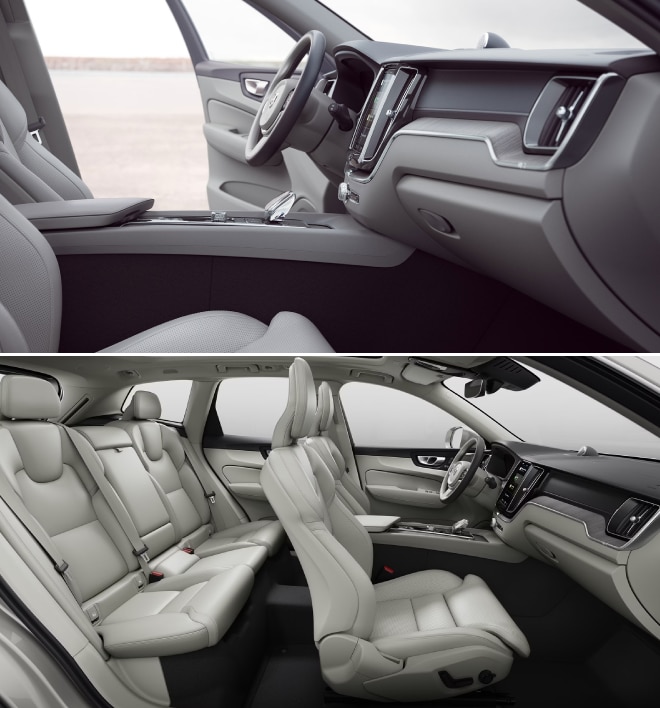 ---
Start Driving a 2023 Volvo XC60
The 2023 Volvo XC60 release date has come and gone, and this dynamic car is available now. Visit our dealership and check out any models we have on the lot; if you find one you like, you can purchase it and drive off in the car today. Folks who prefer to customize their ride can order one online with our team, selecting the most appealing options.
As a Volvo dealer in Houston, we offer great service and competitive financing rates to qualifying customers. Our staff is friendly and well-prepared to answer your questions. Visit us today for your 2023 Volvo XC60 test drive.
Frequently Asked Questions
Will the 2023 Volvo XC60 be redesigned?
The Volvo XC60 has been overhauled for the 2023 model year. It boasts a new array of trims – the Core, Plus, and Ultimate models have replaced the Momentum, Inscription, and R-Design trims – and mild-hybrid powertrains, whereas last year, it had gasoline-only options. This sleek and dynamic vehicle is a great investment for you and yours.
When can you order a 2023 Volvo XC60?
You can order a customized new Volvo XC60 right now. You read that right: This stunning new car is available for purchase today. It combines incredible performance potential with a comfortable and spacious interior and great fuel economy ratings. Please reach out to our staff if you have any questions, or visit our dealership for a Volvo XC60 test drive.
What's new on the 2023 Volvo XC60?
There are two major changes to the Volvo XC60 for the 2023 model year. The Volvo SUV is no longer available with gasoline-only powertrains; now, it comes with either mild-hybrid or plug-in hybrid technology. The trim options have also been recast for the 2023 vehicle iteration. The three choices are the Volvo XC60 Core, Plus, and Ultimate.
Learn More
---
Make an Inquiry
* Indicates a required field
---
1For more information, please visit the official US government source for all fuel economy at www.fueleconomy.gov