Discover Volvo XC60 Lease Specials Today
Check Out the All New Volvo XC60 at Volvo Cars West Houston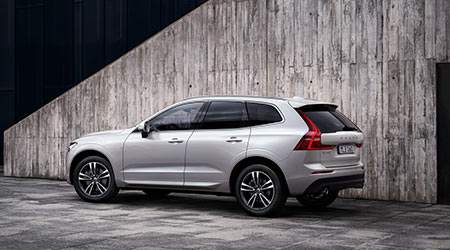 Step into this award-winning family SUV, recognized the world over for its innovative safety features, luxury, technology, and design.
If you are looking to make a statement in the Houston area about what is of real value to you, the Volvo XC60 is ready to help you do it. Step out, and ahead of the pack, in this truly iconic vehicle. Enjoy browsing our latest XC60 models and XC60 overview as you scroll below!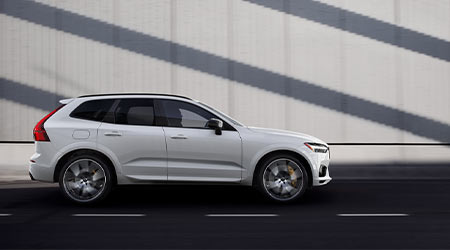 The Volvo XC60. A Midsize SUV. With a Full-Size List of Amenities.
Your safety, your family's safety, and the safety of others are never optional with Volvo vehicles. While other manufacturers charge thousands extra for essential safety features, the Volvo XC60 includes them. Did you know that Volvo has committed to no one being seriously injured or killed in or by a Volvo from 2020 onwards? With a stance that bold, there must be good facts to support it. Six of them, actually. And they are:
The Volvo XC60 Momentum
The Volvo XC60 R-Design
The Volvo XC60 Inscription
The Volvo XC60 R-Design Hybrid
The Volvo XC60 Inscription Hybrid
The Volvo XC60 Engineered By Polestar
As diverse a sampling as that is of the XC60, all of them benefit from an impressive list of included amenities like a panoramic glass roof, leather, a power liftgate, Apple CarPlay, Android Auto, lane departure warning, lane keep assistance, blind-spot monitoring, forward and rear traffic detection, run-off-road-protection, and automatic emergency braking.
Powertrain Options That Give You More, While Taking Less
We know your needs are diverse, and fortunately, there is an XC60 to match every requirement. You can select from the 250HP T5 turbocharged 4cyl engine in either FWD or AWD, a 316HP T6 super-turbocharged 4cyl engine with AWD, a T8 hybrid with 400HP and eAWD, or the Polestar Engineered XC60 with an exhilarating 415HP (also with eAWD). All configurations are matched by a quick-shifting 8-speed Volvo Geartronic automatic transmission with selectable drive modes for enhanced tuning based on conditions or comfort levels required.
Enjoy Some of the Finer Things In Life. Or All of Them.
As capable and dynamic as the XC60 is, let's not forget how beautiful they are, too. You can select from a premium palette of stunning exterior colors, and pair any of those with an interior color scheme that will absolutely dazzle. A great selection of diamond-cut alloy wheels is available to enhance the profile of your XC60, and let's not forget about all of the other amenities you can add-on inside, too! Deployable rear-bench booster seats are a claim to fame for the XC60. But what about ventilated seats? Available. What about configurable massage front seats? Your XC60 can have that, too. The list of comfort and convenience options is virtually endless, and yours for the taking.
Frequently Asked Questions About the XC60
To assist you with your online shopping, Volvo Cars West Houston has put together a list of questions and answers that seem to be hot topics for our customers these days. And those are:
How much is it to lease a Volvo XC60?
You can be on your way home with a beautiful new Volvo XC60 for as little as $559/mo for 36mo with $4,499.00 down. Depending on your chosen model, mileage requirements, and credit rating, lease rates, and monthly payments can vary. All we ask is that you choose your favorite. Let us handle the rest!
When does the new Volvo XC60 come out?
Officially slated to make landfall this November, the 2021 XC60 can be found at elite Volvo retailers at this very moment. Volvo Cars West Houston is an award-winning Volvo retailer, and we have an impressive inventory of 2021 Volvo XC60 SUVs available and ready to take home.
What is the typical length of a Volvo XC60 lease?
Standard leasing is optimized for 36mo - a three year period. Of course, there is flexibility depending on your requirements, and there can be lease terms adjusted to suit. It's always best to ask your Volvo leasing specialist about terms, rates, and conditions so that your deal can be structured as you need it to be.
What is the difference between a Volvo XC60 T5 and T6?
The T5 engine offers 250HP and has FWD and AWD options available. The T6 produces 316HP and comes in only AWD. Both share the same transmission. Both share the same beautiful colors and available options. Apart from the engines, you could conceivably put two XC60 SUVs side by side, one with the T5, and one with the T6, and never see a difference.
Volvo Cars West Houston Is at Your Service
We hope you have enjoyed our XC60 model summary and trust that you have found your favorite example from our online inventory! Our Volvo XC60 lease deals are designed to make ownership even more attractive, and we encourage you to contact your Volvo leasing specialist right away to help you take yours home. All of our Volvo XC60 lease specials can be enhanced with Service By Volvo, Volvo Assurance, and Volvo Valet. Products and services designed to make life a lot less complicated, so be sure to ask!
---
---
---
Disclaimer: *