Tesla Model Y Vs. Mustang Mach-E Vs. Volvo XC40 Recharge

If you are shopping for a new electric car or hybrid SUV, you might be curious about the Volvo XC40 Recharge vs. Mach-E vs. Tesla. If so, then this model review and comparison of top hybrid SUVs for sale is for you. We'll take a look at the Tesla vs. Ford and which new SUV gives you the most attractive pricing, performance, interior comforts, and tech.
Mach-E vs. Volvo XC40 Recharge: Pricing & Trims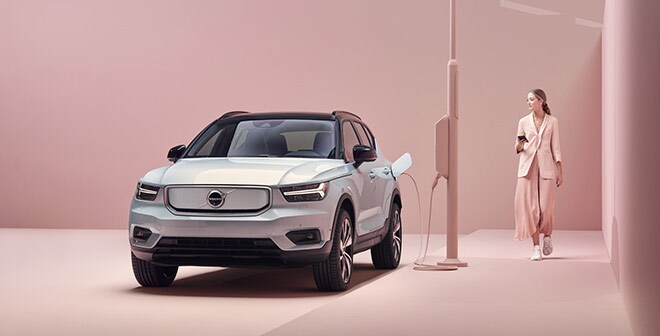 The 2021 Volvo XC40 Recharge P8 eAWD Pure Electric is an All-Wheel Drive electric SUV that delivers impressive performance numbers and technology features, all for a $53,990 starting MSRP.1 If you're comparing the Tesla Model Y vs. Volvo XC40 Electric, the Tesla fully-electric mid-size SUV Long Range has a $46,190 starting MSRP,1 and the Model Y Performance arrives with a $55,190 starting MSRP.1
The Mustang Mach-E delivers an exhilarating drive and iconic heritage in a range of trim models, but you will need to upgrade to the higher trims if you want to compete with the Volvo performance capabilities. You can get into a new Mach-E Premium for $47,600 starting MSRP1 and the top-of-the-line Mach-E GT for $59,900 starting MSRP.1
When comparing the Volvo XC40 Recharge to new electric SUVs or engaging in the Model Y vs. Mach-E debate, the Mustang gives you more trim models, but it's the Volvo XC40 Recharge that offers all-around desirability.
Mach-E vs. Tesla vs. Volvo XC40 Recharge: Performance
When choosing your favorite electric SUV for your garage, there are several factors to consider. An important decision is whether you want an all-electric, hybrid, or gasoline-powered SUV. When you want an SUV, you likely want performance. Let's look at how the Volvo XC40 Recharge stacks up against the Mach-E vs. Tesla when it comes to 0-60 time, horsepower, towing, and EPA-estimated range.
An electric motor delivers immediate torque. If you've ever driven a golf cart, you know that you step on the pedal, and the golf cart immediately takes off. It doesn't need to accelerate up to speed because it has an electric motor. Not an engine. The same is true of these new electric SUVs for sale.
The 2021 Volvo XC40 Recharge immediately sends up to 402 horsepower and 486 pound-feet of torque to the eAWD system, which is more than both the Tesla Model Y and Mustang Mach-E. The XC40 Recharge can also hit 0-60 in 4.7 seconds, which is also faster than the Tesla and the new electric Mustang. Add to that an EPA-estimated all-electric range of 208 miles,2 and you have an impressive new electric SUV for sale in the Volvo vehicle.
If you plan to trailer a second vehicle or tow weekend toys behind your electric SUV, you'll be glad to know that the 2021 Volvo XC40 can tow up to 3,307 pounds.3 While this is comparable to the Model Y towing capability, Ford does not currently provide any information on the towing capacity of the Mustang Mach-E. When deciding between the Mach-E vs. Volvo XC40 Recharge, go with the vehicle that offers the towing capabilities you need in a new electric SUV for sale.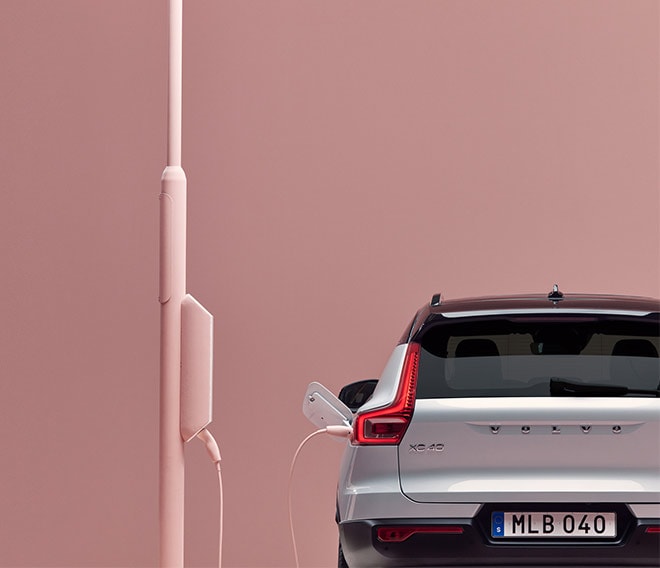 | | Mustang Mach-E | Model Y | XC40 Recharge |
| --- | --- | --- | --- |
| Horsepower: | 266 hp | 386 hp | 402 hp |
| 0–60: | 5.2 seconds | 4.8 seconds | 4.7 seconds |
| Torque: | 428 lb-ft | 375 lb-ft | 486 lb-ft |
| Drivetrain: | RWD or eAWD | AWD | eAWD |
| Range: | 230 miles | 303 miles | 208 miles |
| Towing: | No info yet | 3,500 lbs | 3,307 lbs |
| MPGe: | 93 / 100 / 86 | 121 / 127 / 114 | 79 / 85 / 72 |
Which Vehicle Has the Best Range?
When deciding on a new electric SUV, the range can be a factor, but it really depends on your needs and state of mind. Do you actually drive more than 200 miles in a single trip every day? 300 miles? Electric vehicles are a new idea for many of us, and while we're adjusting to their growing presence, we have a fear of the battery dying and being stranded. But ask yourself, when was the last time you ran out of gas? If you can keep gas in your car, you can keep juice in your battery — especially as more electric vehicles are being produced and charging stations are becoming widely available. When it comes to the electric SUV with the range to beat them all, the Volvo XC40 Recharge with a 208-mile range2 will be more than enough to get most of us through the week.
Volvo XC40 Recharge vs. Mach-E vs. Tesla: Dimensions & Interior
An SUV driver needs room for passengers and gear. Let's look at which new electric SUV for sale gives you the most cargo capacity, ground clearance, and the number of seats. The Volvo XC40 Recharge is built to help you tackle your active lifestyle with 6.9 inches of ground clearance. Unfortunately for Ford owners, the Mustang comes up short, literally, with only 5.7 inches. The XC40 is also shorter than both the Mach-E and the Model Y, making her easier to park and more maneuverable in traffic.
When it comes to seating, all three of these new electric SUVs for sale offer comfortable seating for five across two rows. With its overall length of 174.2 inches, the Volvo XC40 Recharge provides plenty of passenger comfort and legroom.
| | Mustang Mach-E | Model Y | XC40 Recharge |
| --- | --- | --- | --- |
| # of Seats: | 5 | 5 | 5 |
| Cargo Capacity: | 59.7 cu.ft. | 68 cu. ft | 47.4 cu. ft. |
| Length: | 186" | 187" | 174.2" |
| Width: | NA | 75.6" | 73.7" |
| Ground Clearance: | 5.7" | 6.6" | 6.9" |
Explore Electric
Tesla Model Y vs. Volvo XC40 Electric: Technology
The Volvo XC40 Recharge electric SUV, Mustang Mach-E, and Tesla Model Y are all loaded with tech designed to help you take charge and enjoy your drive. The Volvo XC40 includes a four-year subscription to Google Services to help you stay connected to your digital life via Google Maps, Google Assistant, the Google Play Store, and a built-in route planner, so you always know when and where to charge.
What Are the Downfalls of the Mustang Mach-E?
While the Mustang Mach-E GT delivers impressive numbers, it's a significant upgrade from the base trim model, which falls short of the competition in many categories. The Mach-E produces less horsepower than both the Model Y and the XC40 Recharge. The Mach-E also has a slower 0-60 time than the Volvo vehicle and the Tesla. While you get a choice of RWD or eAWD in the Mach-E, it has less range than the Model Y and doesn't provide any towing information. If you want all-around performance, the Volvo XC40 Recharge beats the Mustang Mach-E Select.
What Are the Downfalls of the Tesla Model Y?
If you are debating the Tesla vs. Volvo XC40, you should be aware that there are no local Tesla dealers or service centers. While an electric car doesn't require oil changes, it does still need maintenance. When you need a new battery or new tires for your Tesla Model Y, where will you take it? Our Volvo dealership is fully equipped to handle any maintenance needs that might arise on your vehicle. From tire rotations to new windshield wiper blades to battery coolant levels to cabin heaters, we have the team and facility in place to ensure your vehicle is always running as she should.
What Are the Downfalls of the Volvo XC40 Electric?
If you are someone who likes a wide selection of trim models to choose from, the XC40 Recharge does not offer that capability. While the 2021 Volvo XC40 is available in many trim models, the XC40 Recharge comes in one trim offering for the 2021 model year. When deciding between the Tesla vs. Ford vs. Volvo vehicle, talk to our sales associates about the additional options available on the new Volvo electric SUV. While the trim offerings are limited, the standard features and performance capabilities abound. When looking for an all-around electric SUV, be sure to test drive a new Volvo XC40 Recharge at our dealership.
Volvo Electric SUVs For Sale in Houston, Texas
Now that you see how the Volvo XC40 Recharge compares to the Mach-E vs. Tesla, you'll want to stop by our local SUV dealership for a test drive of this all-electric ride. When you arrive, a member of our friendly sales team will greet you and show you the XC40 Recharge in Sage Green or Glacier Silver. Take the quick drive over to our Volvo dealer today for lease specials on electric cars.
The Volvo Cars West Houston finance department is eager to help you secure a Volvo XC40 Recharge lease deal. An easy way to get started is to get pre-approved for credit and submit a secure credit authorization through our website. Once our finance team knows more about the factors that created your unique credit score, we can tell you about lease deals and low financing offers you might qualify for. Be sure to ask about any tax credits you could receive with an electric vehicle purchase. Our goal is to help you find ways to save on new cars. Come see us today.
1Prices shown are Manufacturer's Suggested Retail Price (MSRP), Base Price or Starting At price and excludes destination fees, taxes, title, license, and registration and/or electronic filing fees, dealer fees.
2EPA-based estimated distance on a fully-charged battery.