Tesla Model Y Vs. Mustang Mach-E Vs. Volvo XC40 Recharge

The future is looking bright, offering consumers several different electric vehicles to consider for their new ride – and the Mach-E vs. Tesla Model Y vs. Volvo XC40 Recharge battle can be especially contentious. These three vehicles are all considered compact SUVs, although they have wildly different exterior appearances. The following directly compares them in terms of their styling, performance, dimensions, and technology.
Mustang Mach-E vs. Tesla Model Y vs. Volvo XC40 Electric SUVs
Trims & Pricing
All three of these vehicles come in an array of trim levels. The Mustang Mach-E has Select, Premium, California Route 1, and GT variants. The Tesla Model Y calls its options the Model Y Long Range and Model Y Performance. For the Volvo XC40 Recharge, the trims are known as the Core, Plus, and Ultimate.
These SUVs ascend in price as they go up the trim ladder and the vehicles become more luxurious. For example, in the Volvo XC40 Recharge Ultimate, you will get a 13-speaker Harman Kardon® premium sound system with an air-ventilated subwoofer, a heated steering wheel, heated rear seats, and 20-inch five-spoke black diamond-cut alloy wheels. These features are in addition to amenities like heated front seats, a 360-degree camera, and a laminated power moonroof from lower trim options that carry over to the Ultimate.
The Mustang Mach-E top-tier trim has very similar features, including 20-inch wheels in gloss black, a 360-degree camera, a panoramic fixed glass roof, and a B&O® 10-speaker sound system.
Not to be left out, the Tesla Model Y also has a glass roof, 360-degree camera, and heated seating – although unlike in the Volvo XC40, rear-seat passengers aren't able to control their heating level themselves and have to ask someone in the front seat to do it. The Tesla Model Y premium sound system is designed specifically by them rather than an identified brand.
You also can add packages and accessories to your vehicle, which can influence the overall cost. However, if you're looking at the MSRP of the top-level trims, the Volvo XC40 is the greatest value at $59,500.1 The other two top-tier options are both several thousand dollars more.
Of course, as EVs, all of these vehicles could qualify for impressive tax incentives. Since the qualifiers for this credit are always changing, please consult your tax adviser for the most up-to-date information.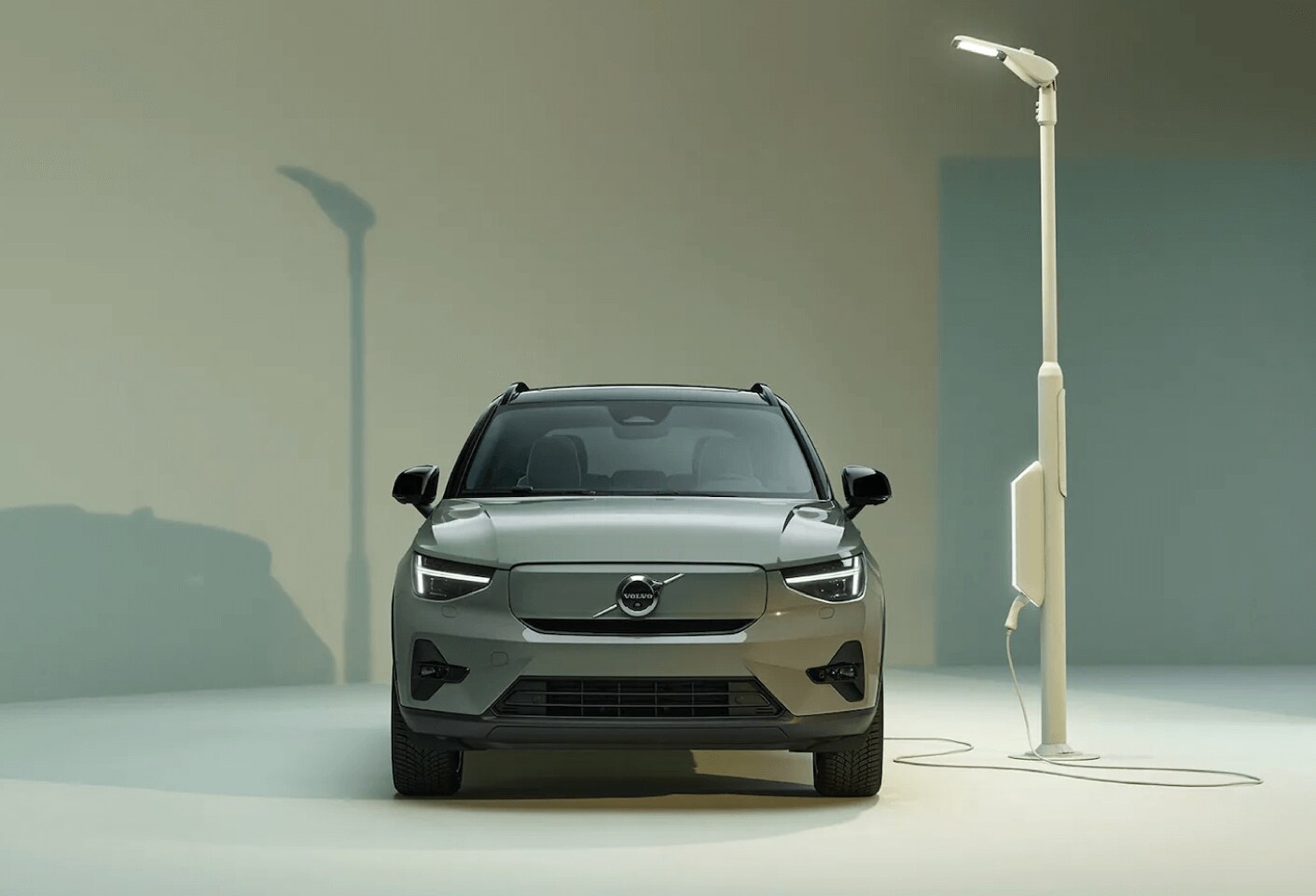 Tesla Model Y vs. Mach-E vs. Volvo XC40 Recharge Performance
These three impressive vehicles can keep you moving for a long time. The Volvo XC40 and the Mustang Mach-E have very similar ranges, exceeding 220 miles.2 The Tesla Model Y Performance model can push it to 303 miles or 330 in the Long Range.2 However, this difference is only usually felt on long trips. On a day-to-day (or even weekly) basis, you're unlikely to travel that far, giving your SUV plenty of time to charge quietly at night and be ready for whatever is on your agenda the next morning.
The Volvo XC40 Recharge can produce over 400 horsepower as standard. Meanwhile, the Mustang Mach-E base model, the Select, offers 266 horsepower. The Tesla Model Y horsepower is not currently disclosed by the automaker.
While you might not plan to race your SUV, knowing that it's capable of responding quickly to your instructions can be confidence-boosting. The Volvo XC40 can go from 0 to 60 mph in 4.7 seconds. The Tesla Model Y Long Range can accomplish the same in 4.8 seconds, and the Mustang Mach-E GT eAWD can do it in 5.2 seconds. The RWD version of this trim will take a little longer: 5.8 seconds.
Tesla vs. Ford vs. Volvo SUV Dimensions
The Tesla Model Y is the longest of the three options, coming in at 187 inches; it is also the widest. This extra size can be useful, although it can make this vehicle a little less maneuverable to park.
Meanwhile, the Volvo XC40 Recharge is the tallest at 65 inches, with a ground clearance of 6.7 inches; the Tesla Model Y comes with either 6.2 inches (Performance) or 6.8 inches (Long Range) in this category. The Mustang Mach-E has 5.7 inches. This aspect of the Volvo XC40 Recharge, combined with the Off-Road mode, makes the Volvo SUV a family-favorite five-seater for adventuring.
However, the five-seater Mustang Mach-E has the best first-row legroom, giving drivers 43.3 inches to stretch out in. This can be useful for very tall drivers.
The five-seater Tesla Model Y is designed with 30.2 cubic feet of cargo space behind the second row, while the Mustang Mach-E offers over 29 cubic feet. The Volvo XC40 Recharge is smaller, with 16 cubic feet available. However, if you need to transport more, you can fold the rear seats down to increase this area to 57.5 cubic feet, and there's also a front load compartment under the hood.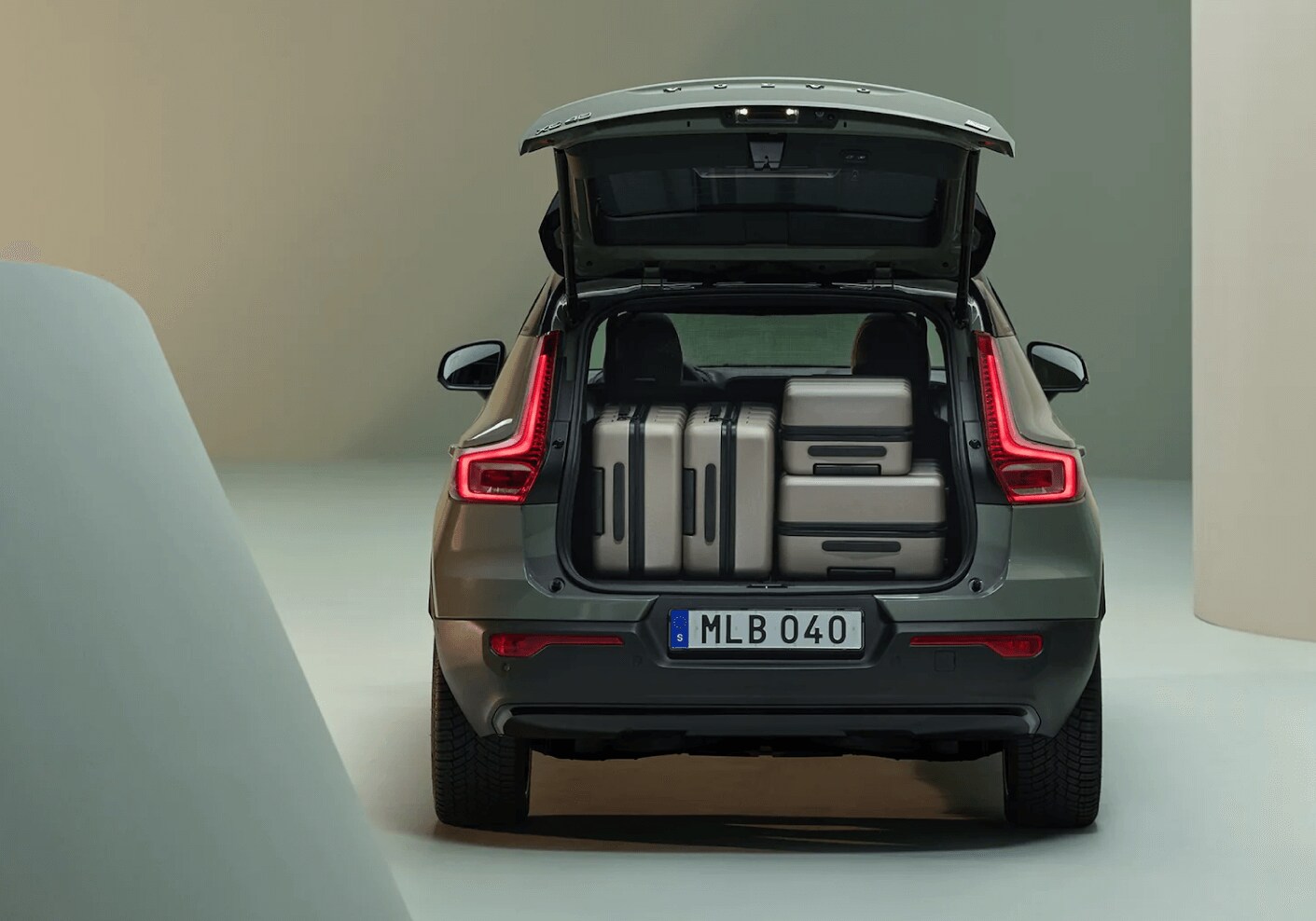 | | Mustang Mach-E Select | Model Y Long Range | XC40 Recharge Core |
| --- | --- | --- | --- |
| Horsepower: | 266 hp | undisclosed | 402 hp |
| 0–60: | 5.8 seconds (RWD) or 5.2 seconds (eAWD) | 4.8 seconds | 4.7 seconds |
| Torque: | 317 lb-ft (RWD) or 428 lb-feet (RWD) | undisclosed | 486 lb-ft |
| Drivetrain: | RWD or eAWD | AWD | eAWD |
| Range:2 | 247 (RWD) or 224 (eAWD) | 330 miles | 223 miles |
| Towing:3 | 3,306 lbs | 3,500 lbs | 2,000 lbs |
| MPGe (City/Highway/Combined):4 | 99/86/93 (eAWD) | 127/117/122 | 92/79/85 |
Mustang Mach-E vs. Volvo XC40 Recharge vs. Tesla Model Y Technology
One of the things that the Tesla brand is most known for is its Autopilot technology. For example, in a Tesla Model 3, you could ask your car to Autosteer or navigate on Autopilot. There is also Autoparking capability. The Mustang Mach-E takes a similar approach, offering Active Park Assist 2.0 and BlueCruise Hands-Free Highway Driving. While drivers are still expected to monitor their vehicle's progress to make sure nothing goes awry, these features may seem like the way of the future to some individuals since they mean you don't have to be as involved.
However, for others, these functions can be a bit intimidating and lead to more stress instead of less. Comparing Tesla vs. Volvo XC40 SUVs, some people prefer the control they have in the Volvo XC40 Recharge.
That's not to say that it doesn't have helpful driver-assistance features. This vehicle can offer blind-spot monitoring, oncoming lane mitigation, lane-keeping assistance, rain sensors, adaptive cruise control, pilot assist, parking assistance, and road-sign information. However, these are more tools to keep you focused and aware of your surroundings while keeping you firmly as the driver in the driver's seat.
| | Mustang Mach-E | Model Y | XC40 Recharge |
| --- | --- | --- | --- |
| # of Seats: | 5 | 5 or 7 | 5 |
| Max Cargo Capacity: | 59.7 cu. ft. | 76.2 cu. ft. | 57.5 cu. ft. |
| Length: | 185.6" | 187" | 174.8" |
| Width: | 74.1" | 75.6" | 75.2" |
| Ground Clearance: | 5.7" | 6.8" | 8.5" |
Explore Electric
Frequently Asked Questions
What Are the Downfalls of the Mustang Mach-E?
While the Mustang Mach-E GT delivers impressive numbers, it's a significant upgrade from the base trim model, which falls short of the competition in many categories. The Mach-E Select produces less horsepower than both the Model Y and the XC40 Recharge. It also has a slower 0-60 time than the Volvo and Tesla vehicles. While you get a choice of RWD or eAWD in the Mach-E, it has less range than the Model Y. Its GT trim is also significantly more expensive than the Volvo XC40 Recharge Ultimate.
What Are the Downfalls of the Tesla Model Y?
If you're debating the Tesla vs. Volvo XC40, you should be aware that there are fewer Tesla dealers or service centers around the country. While an electric car doesn't require oil changes, it still needs maintenance. However, over a dozen states and territories don't have a place where you can easily get new batteries or tires for your Tesla Model Y. Our Volvo dealership is fully equipped to handle any maintenance needs that might arise on your vehicle. From tire rotations to new windshield wiper blades to battery coolant levels to cabin heaters, we have the team and facility in place to ensure your vehicle is always running as it should. Volvo automakers also have service centers in 49 states and territories, in case you move.
What Are the Downfalls of the Volvo XC40 Electric?
The Volvo XC40 Recharge is a bit smaller than the Mustang Mach-E or Tesla Model Y, which can result in overall less cargo room. However, it is taller, giving you better visibility and ground clearance. If you need to bring extra items along, the second row of seats can fold down to increase your storage area, and you can also tow up to 2,000 pounds in this vehicle when it is properly equipped. If you like what Volvo vehicles have to offer but want something a bit bigger, the Volvo XC90 Recharge is a fantastic plug-in hybrid. This still gives you a Pure electric driving range, but the SUV can also utilize gas.
Learn More About EVs & the Volvo XC40 Recharge at Our Dealership
If this information has drawn your interest to the Volvo XC40 Recharge, we can't blame you. This is a highly impressive all-electric SUV, and we'd be happy to set you up on a test drive and let you explore its driver-assistance features for yourself. Call us today with questions about this SUV, its competition, our competitive financing options, or our service and repair offerings.
---
1Prices shown are Manufacturer's Suggested Retail Price (MSRP), Base Price or Starting At price and excludes destination fees, taxes, title, license, and registration and/or electronic filing fees, dealer fees.
2Anticipated range is according to WLTP and EPA driving cycles and real-world range may vary.
3When properly equipped.
4Estimates only. For more information, please visit the official U.S. government source for all fuel economy at www.fueleconomy.gov.