Volvo XC40 Recharge Lease Deals In Houston, TX
Volvo Cars is completely reinventing what it means to drive. Alongside them, we are reinventing what a lease can look like with our flexible and competitive Volvo XC40 Recharge lease. You won't find better Volvo lease deals in Texas than these, just like you won't find a better electric SUV than the Volvo XC40 Recharge. After all, what could be better than driving a car that's jam-packed with enjoyable amenities and that allows you to do your part in making the world a cleaner place? The only thing we can think of is maybe getting all that for a great price with our Volvo XC40 Recharge lease deals!
Say Goodbye Gas Station and Hello Charging Point!

Our Volvo XC40 Recharge electric lease deals make it easy for you to experience just how effortless electric driving can be (and that's not even saying anything about how you can avoid iffy gas station stops by going electric). Most people can do the vast majority of their charging entirely at home. You can charge while you sleep for a full battery in the morning (with certain setups). You can get a few extra miles charged while you cook dinner or wrangle the kids before school. Charging at home can also cost less than what it takes to fill up your car with gas but offer the same amount of miles.
If you're not familiar with the world of electric vehicles, charging may be somewhat of an enigma to you. Lucky for you, we're here to peel back the curtain on what will really take place after you get a Volvo XC40 Recharge lease.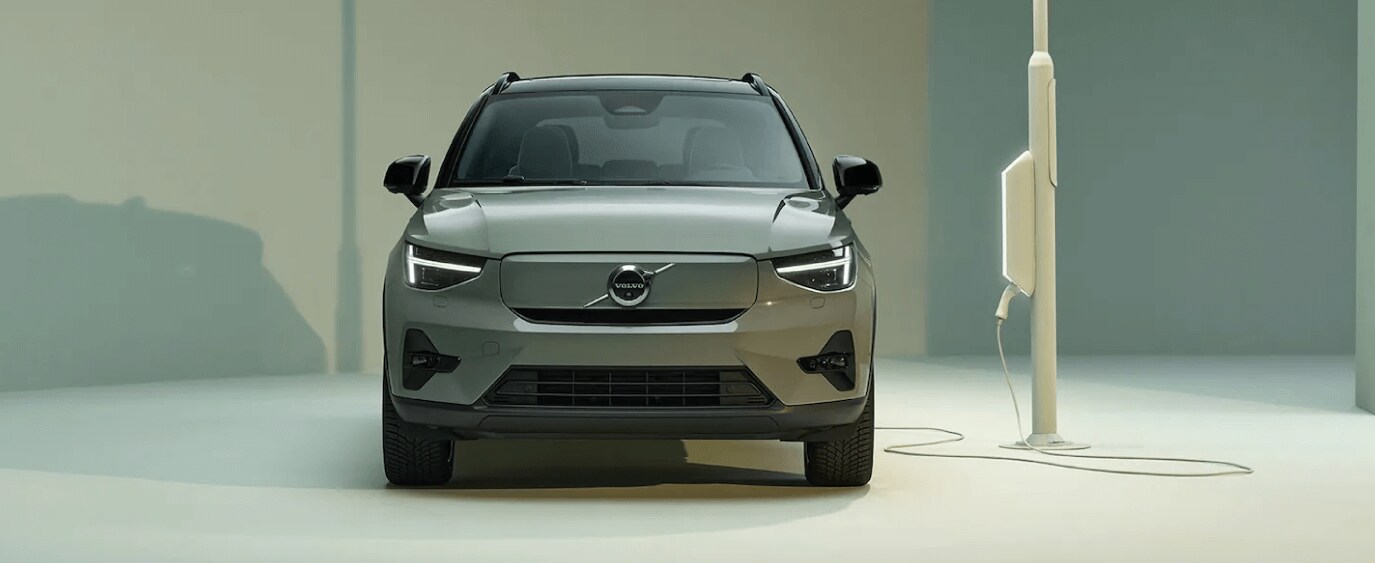 It can be inconvenient and sometimes downright dangerous to have to stop at a gas station. That's why Volvo Cars offers home charging courtesy of ChargePoint with installations by Qmerit. It's literally as simple as charging your phone. Once you have the necessary equipment installed and connected, you just plug the charger into your car's charging port. On the Volvo XC40 Recharge, that port is located behind the back left passenger's side door. You can even check your charge through the Volvo On Call app, so you don't even need to leave your bed to see the status of your battery.
Your Volvo XC40 comes with a cord that plugs into any existing outlet, taking any existing guesswork out of charging at home. If you want, you can also upgrade to a 220-volt outlet to decrease your at-home charging times.
We know that all-electric models can come with a slightly higher MSRP, meaning that the Volvo XC40 electric lease price will come with a slightly higher monthly cost. However, most states offer tax incentives for people who buy electric and hybrid vehicles, which easily offset the higher prices. Tax incentives aren't exclusive to people who buy either, as you can get tax incentives for a Volvo XC40 Recharge lease, too!
Abundant Amenities
As always, this Volvo vehicle comes packed with features that Volvo Cars is known for. When you get a Volvo XC40 Recharge lease, you'll find that safety, convenience, and tech aren't skimped on. You'll have a 360-degree bird's-eye view of your car thanks to the four high-definition cameras on the Volvo XC40 Recharge. Underneath the bold curves and luxurious styling, the Volvo XC40 Recharge has an advanced, rigid body structure, which is made to absorb impact energy and protect your passengers as well your car's battery from harm or damage. The blind spot information system is one of drivers' favorite safety features. It offers steering assist, alerts, active driving support, and more to help you get through those tough spots in our notorious Houston, TX, traffic.
You'll also enjoy the built-in route planner, Google suite, the premium sound system, and the extra cargo space you get in the front since you don't have to worry about a traditional engine taking up all that extra space.
FAQs
What are the performance specs of the Volvo XC40 Recharge?
They're impressive - that's what! Your Volvo XC40 Recharge lease can tow up to 2,000 lbs. when properly equipped. Yep, even fully electric vehicles have enough power to tow! Go from zero to 60 mph in as little as 4.7 seconds with your peppy electric motor. Speaking of, you'll get 402 horsepower with that motor. And, you'll be getting incredible estimated MPGe on your Volvo XC40 Recharge: 85/72/79 city/highway/combined.1
What colors is the Volvo XC40 Recharge available in?
There are eight available exterior colors for your Volvo XC40 Recharge. Check out the list below.
Black Stone
Bursting Blue Metallic
Crystal White Metallic
Fusion Red Metallic
Glacier Silver Metallic
Onyx Black Metallic
Sage Green Metallic
Thunder Grey Metallic
How long does it take to charge the Volvo XC40 Recharge at home?
Your at-home charge times will differ depending on the type of installation you have. At DC fast-charging stations, your dead battery can be charged to more than 75% in less than an hour. Say so long to charging time anxiety. If you have a three-phase 11 kW wallbox, you'll see considerably shorter times, and you can go from empty to fully charged in about eight hours. With a standard cable and household connector, it can take about 40-72 hours to charge from empty to full.
If you're driving a short distance, say a quick commute to work, you'll have plenty of range to get there and back without needing to stop for a charge once you get there or in the middle of the drive. Moderate/mid-range distances will likely require you to stop for a charge at each endpoint. If you're going on a vacation that's many hours away from home, you'll want to plan your charging stops ahead of time, as you will definitely need to stop for charges along the way there.
Go Electric With Volvo Cars West Houston
So, what do you think? Want to go electric now? We sure do, and that's exactly why we're offering agreeable deals on our Volvo XC40 Recharge lease. This car has everything you want and nothing you don't. You won't miss gas-powered vehicles after stepping into this electric SUV. Say it with us: Good riddance gasoline!
---
---
See Other Volvo Lease Deals in Houston, TX
Disclaimer:*
1This is an electric vehicle. Since electricity is not measured in gallons, a conversion factor is used to translate the fuel economy into miles per gallon of gasoline equivalent (MPGe). EPA-estimated 85 city/72 highway/ 79 combined MPGe. Use for comparison purposes only. Your MPGe will vary for many reasons, including but not limited to, driving conditions, how and where you drive, how you maintain your vehicle battery-package/condition, and other factors. For more information, including information on MPGe, see www.fueleconomy.gov