Check Out the All New Volvo XC40 at Volvo Cars West Houston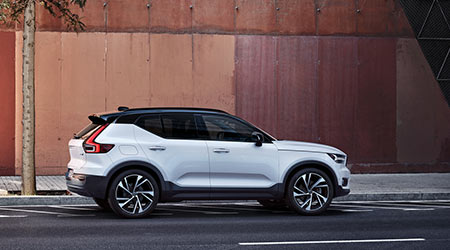 In a world where compact crossover SUVs are all the same, the Volvo XC40 steps out ahead of the pack with iconic styling, wonderful luxury, and exceptional safety options included as standard.
 The Volvo XC40 is designed to make your hectic urban/suburban drive less complicated, and with state-of-the-art comfort options, any Volvo XC40 is ready to take on adventures further afield. Please enjoy browsing our latest models and Volvo XC40 overview as you scroll below!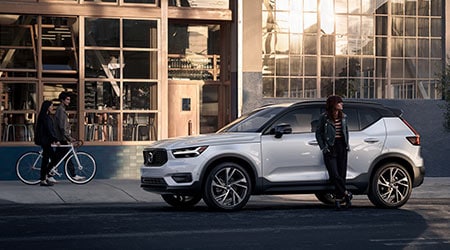 Boring Has Met Its Match
Out of the gate, the XC40 is ready to impress any driver with its beautiful exterior styling. Standard Thor's Hammer LED headlights are bold and aggressive. The scalloped profile adds a touch of timeless class. Available contrast colored roof-lines are modern, not to mention fun! There are many Volvo XC40 trims to choose from, and your current lineup is:
The Volvo XC40 Momentum
The Volvo XC40 R-Design
The Volvo XC40 Inscription
The Volvo XC40 Recharge EV
No matter which Volvo XC40 is right for you, all models benefit from a best-in-class 12.3" digital drivers display, a 9" Sensus Touch infotainment center, Apple CarPlay, Android Auto, lane departure warning, lane keep assistance, front and rear collision detection, blind-spot warning, automatic emergency braking, and run-off-road protection.
Power Options With a Mighty Purpose
Volvo has committed to being carbon neutral by 2040. Every vehicle that is produced has maximum sustainability in mind while delivering legendary capability and performance. As a brand-exclusive, the Volvo XC40 Recharge boasts a 400HP twin-electric powertrain with a rated 200mi+ range of emission-free driving. The national network of charging stations is growing all the time, and longer road-trips can now be worry-free with respect to charging. The Volvo XC40 also makes use of a T4 187HP engine as well as a 250HP T5 motor. FWD and AWD are available, and all configurations are paired with the Volvo Geartronic 8-speed automatic transmission.
For the Love of the Drive. Design From Every Angle.
The Volvo XC40 offers ingenious storage solutions to keep your gear, shopping, and disposables sorted and stowed. Additionally, an available rear loadspace compartment can be configured to your needs, maximizing every inch of storage capacity. You'll find that leather is standard with model-specific upgrades available. You can select from dynamic looking diamond-cut wheels, stunning exterior colors, and timeless interior finishes to create a look all your own. Speaking of stepping out, don't miss the "Lava Red" interior option with its bold inserts and flooring that enhance the personality of every Volvo XC40 SUV.
Common Questions for an Uncommonly Capable Vehicle
Whether you're a long-time fan of the brand or looking to upgrade and experience these vehicles for the first time, we tend to hear a lot of the same questions from our customers and are happy to outline some of them here to assist you in your online shopping process:
How much is it to lease a new Volvo XC40?
Our current offer can put you behind the wheel of a beautiful Volvo XC40 for as little as $559/mo for 36mo with $4,099 due at signing. Of course, there are many Volvo XC40 SUVs to choose from, and various flexible terms and mileage allocations, which all affect pricing. Keep in mind that optimal payments come from tier-1 credit, and your lease-rate may change with varied credit scores.
Should I lease or buy a Volvo XC40?
In general, leasing is always the most competitive way to own a new car. Your down payment is less, your monthly payment is less, and you are not on the hook for any depreciation. Financing scenarios favor high-mileage drivers looking to keep their vehicles for up to ten years. But even then, with the total cost of ownership factored in, leasing is still competitive against finance.
Which Volvo XC40 trims are available to lease?
All of them! This means that you can enjoy the full range of Volvo XC40 trims like the Momentum, the R-Design, the Inscription, and the EV Recharge. Regardless of engine or final-drive configuration, the Volvo XC40 of your dreams is waiting to come home, whether that is a T4, T5, FWD, or AWD variant.
What is the difference between a Volvo XC40 and the Volvo XC60?
Mainly price and size. The Volvo XC40 is smaller and has a sticker price reflective of that; however, depending on which models are side by side, you may find that a full-spec Volvo XC40 touches Volvo XC60 territory. Both models offer the same capability, luxury, and safety technology. In the end, it comes down to your needs, and which model suits those needs best.
Volvo XC40 Lease Deals Made Easy at Volvo Cars West Houston
You've made a great choice to lease the Volvo XC40 SUV from Volvo Cars. Now see what it's like to get an award-winning vehicle from an award-winning dealership. Our Volvo XC40 lease specials are designed to make ownership more attractive. Once you have found your favorite, we encourage you to contact one of our leasing specialists to assist you with any additional questions. Make sure to ask about Volvo Cars Valet, Volvo Cars Assurance, and Service By Volvo Cars so that you can have the most engaged ownership experience possible.
---
---