Check Out the New Volvo S60 at Volvo Cars West Houston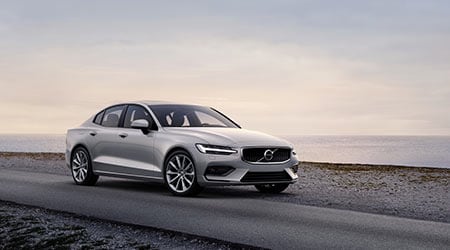 Argued by many critics as the perfect balance between luxury and performance, the Volvo S60 is the quintessential Volvo sedan. With modern minimalism, dynamic powertrains, and exceptional standard safety options, your Volvo S60 can handle it all.
The Volvo S60 is also one of the select Volvo models that offers a Polestar Engineered variant, which makes the most out of performance while taking little resources. Please enjoy our selection of the latest Volvo S60 models as well as our Volvo S60 model overview as you scroll down below.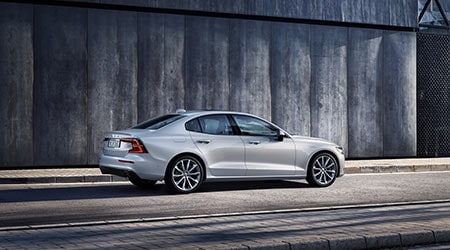 Dynamic Scandinavian Design, on the Move
Form, fit, and function. These design principles lend themselves to the strong sculpted lines of the Volvo S60 sedan's exterior while allowing for an open concept cabin that comforts and inspires. Your Volvo S60 will come packed with essential safety and luxury items that some competitors charge thousands extra for. The Volvo S60 lineup includes:
The Volvo S60 Momentum
The Volvo S60 R-Design
The Volvo S60 Inscription
The Volvo S60 Recharge R-Design
The Volvo S60 Recharge Inscription
The Volvo S60 Polestar Engineered
All Volvo S60 trims benefit from useful features like intelligent speech command, Apple CarPlay®, Android Auto™, a 12.3-inch digital driver's display, a 9-inch Sensus Touch infotainment center, lane departure warning, lane keep assistance, blind-spot monitoring, front and rear traffic detection, run-off-road protection, and automatic brake assist.
Powerful Performance at Every Level
The Volvo S60 offers a powertrain to suit every type of driver. We start with a 250-horsepower T5 engine with road-gripping FWD. For more power, grab the T6 with AWD and enjoy 316 horsepower that will take you through town or out of it, in a hurry. The 400-horsepower T8 plug-in hybrids can give any exotic sports car a run for their money while the exceptionally tuned Volvo S60 Polestar Engineered delivers an electrifying 415 horsepower with eAWD. Any configuration is paired with the Volvo eight-speed Geartronic automatic transmission, which gives you quick starts off the line and effortless cruising with all objects receding from your rearview.
Turn Some Heads as You Turn Some Corners
The Volvo S60 is meant to look like a proper European sports sedan. Thankfully, the Volvo S60 embraces individuality so you can have a distinctive model that suits your personality. Choose from a palette of dynamic exterior colors and pair any of them with a beautiful leather interior. For those looking for something a little different, we would suggest taking a glance at our woven wool seating, a throwback to original Volvo design cues made modern for today's drivers. Add-on our semi-autonomous driving, head-up display, and configurable chassis dynamics to get the most out of your drive.
Frequently Asked Questions About the Volvo S60
Many of our customers come into our showroom with the same set of questions. We thought that it might help you while you're shopping online to have them presented here.
How much is it to lease a Volvo S60?
Our current Volvo S60 lease deals are presented at the top of this page, and they are updated on a monthly basis. Of course, depending on your selected model, mileage requirements, and credit, prices can vary.
Should I lease or buy a Volvo S60?
This is entirely dependent on your needs, but a lease is a cost-effective way to take home your new Volvo S60. You have a lower down payment, a lower monthly payment, and are not on the hook for depreciation. You pay for the projected usage of the Volvo S60, against a precalculated residual value.
Which Volvo S60 trims are available to lease?
Thankfully, usually all of them! This includes the Momentum, R-Design, Inscription, Recharge model, and Polestar Engineered model. To secure your favorite, make sure to contact one of our leasing specialists before someone else does.
Volvo S60 Lease Specials Made Easy in Houston
You've thought about it. You've researched it. You've been dreaming about it. The Volvo S60 of your dreams is staring right at you, with an attractive lease offer from Volvo Cars West Houston that can make it happen. The process is simple: Pick your favorite, contact one of our Volvo S60 specialists, and see it delivered to your door if eligible! Be sure to ask about Volvo Valet and Care by Volvo too. These products and services are designed to make your life less complicated so you can do what you want to do the most: Enjoy your new Volvo S60!
---